You may remember this kicking around on my clipboard, and you've seen bits and pieces on my Twitter and Instagram accounts (@FetishArtist). After a lot of work, I finished it off last Wednesday.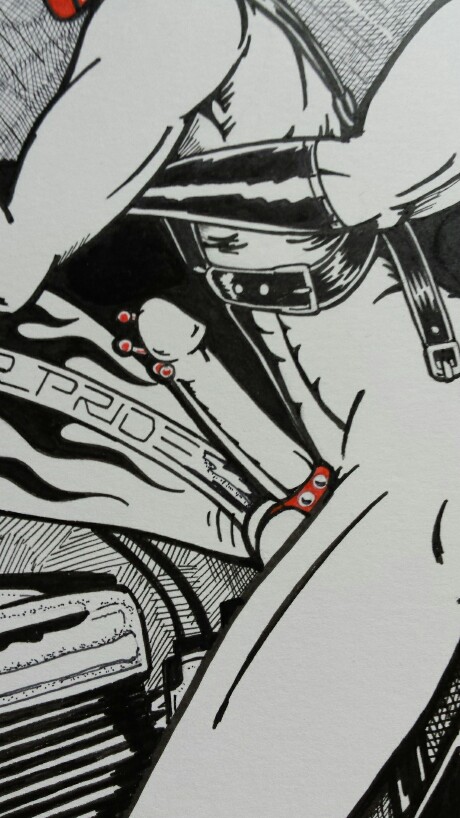 This is probably the first piece where I've spent more work on the motorcycle than the fucking. I lost my reference material for the bike. It's buried around here somewhere. I didn't want a solid reference. I wanted a hardtail, and I wanted it metric. But I didn't want something that was specifically Kawasaki, or Honda. This made it extra fucked up when I forgot what I wanted the bike to look like in the first place! Nearest I can tell, it's loosely based on a Honda 750 engine with a rear disk brake integrated into the rear sprocket. The back end is definitely old school. There's some influence with a fender designed by a guy named Crazy Frank (no, seriously, some of these chopper icons we take for granted were created by specific individuals the general public doesn't know about. For example, the classic "springer fork" design is by Paughco). But Frank's design wasn't for a rigid frame and it's too bulky for what I wanted.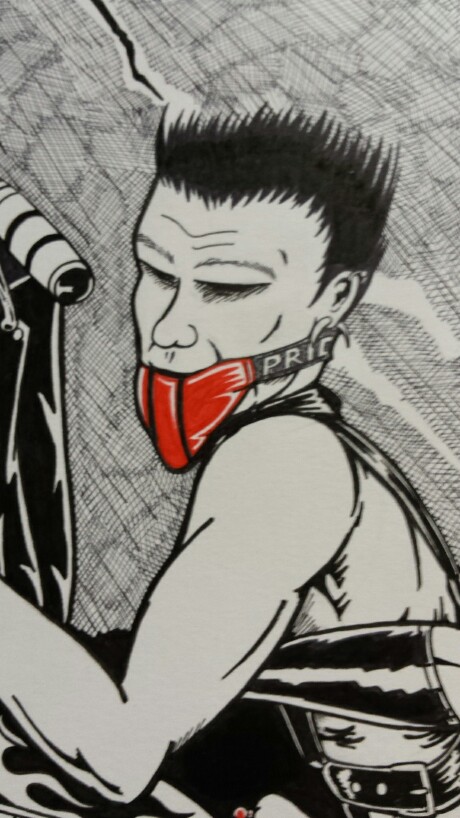 I'd say I spent about three days working out the motorcycle, combing through reference photos online, and tearing the house apart trying to find those old issues of Chopperhead. The last part I left was detail on the guys. I wanted some shading, a lot of posterizing, but not a lot of dramatic shading. There's a lot of dark background and the idea is to get these guys to pop. If I got realistic, they'd disappear. I went through an old black and white Mr. S catalog, page by page noting shadows and details.
The intention is this is heading to a gallery show. Not sure where yet. I'm thinking of submitting it to La Luz for their LaLuzapalooza group show. I wanna show it at Lethal Amounts gallery, but I think I'd have to have a solo show for that. At 11 x 14, it's actually too big for 12 Inches of Sin at Sin City Gallery.