This Sunday, February 22nd, I'll be over at the Los Angeles Comic Book and Sci Fi expo at The Reef convention center in the Los Angeles garment district. The Reef used to be known as LA Mart and serves as a creative hub for design businesses.
The doors open at 10am, and The Reef can be found at 1933 South Broadway. Come check it out. John K of Ren and Stimpy will be there doing commissions and selling lots of collectables. They lined up a bunch of actors from the Power Rangers to sign autographs, and Joe Benitez will be there to promote his comic, Lady Mechanika. Go to http://www.comicbookscifi.com for more details.
Once again, special thanks go out to Natuta Bagrationi, the official photographer for Antebellum, who got these great behind the scenes shots of the installation of Broken Heart.
Rick Castro got a huge kick out of watching me on the ladder. I took extreme caution given I was assisting from the wrong side of the ladder, and he swears there was something about my body language as I carefully watched every move.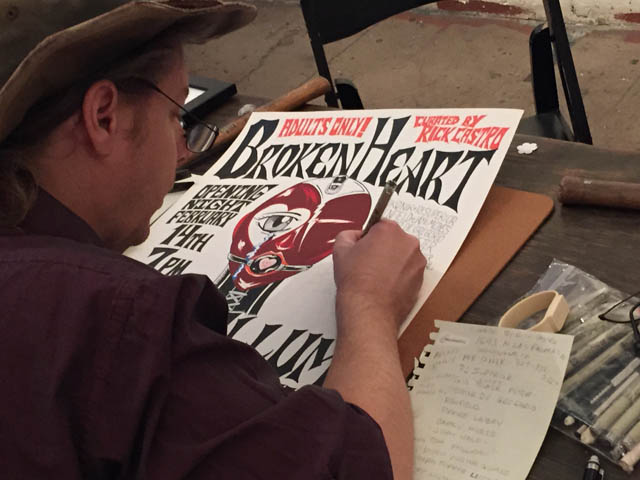 For me, this is one of the most important BTS shots from the exhibit. There are only a few photos of me actually doing the work in progress. You can see the list of exhibitors and details to my right, there's also a set of numbers that correspond with the names to help figure spacing.
Gotta go! See you Sunday!