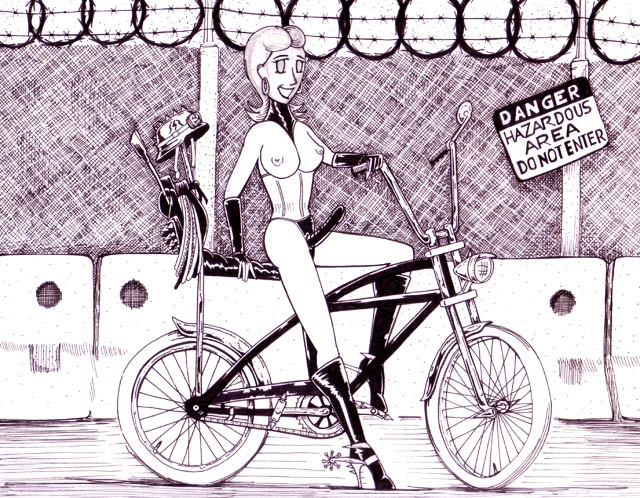 It is almost finished, and I just couldn't wait. I also couldn't resist drawing this Femdom art piece with a strap-on.
This year has been very hard on the site, and I'm fearing that I may go the way of many artists and cartoonists that only update once every few weeks, months or even years before disappearing into obscurity. Kind of like what my old fetish art site became.
This latex clad Dominatrix on wheels got started at the Choppercabras Halloween bike ride at Atomic Cycles in Van Nuys. Obviously, she didn't get started with a strap-on. I didn't even figure what direction I was going with the hair until last week.
Last week I was involved with the Teamsters port protests, and found myself with surprising amounts of down time. I made the most of it by taking the time to knock out big parts of this drawing and get started on other pieces. The background is actually based on one of the sites we were protesting at. It had an industrial look that really appealed to me.
I've gone over the background with gel-pen for a chain-link look. It is a little obscure, but it was a good idea. My final step is to color in the latex catsuit in red. That will make her stand out a bit more and I really want to see what she looks like in red.
What I'd love to do is get a model to pose on a similar bike, with a sub going down on the strap-on. That will be another time and place. Sure can't be at the protest site *wink*.
This week, I'm going to be unavailable. I've already adjusted Etsy in case any orders come in. I can take care of orders on Saturday. There will not be a new Thanksgiving piece, but I do have an update planned before I come back.