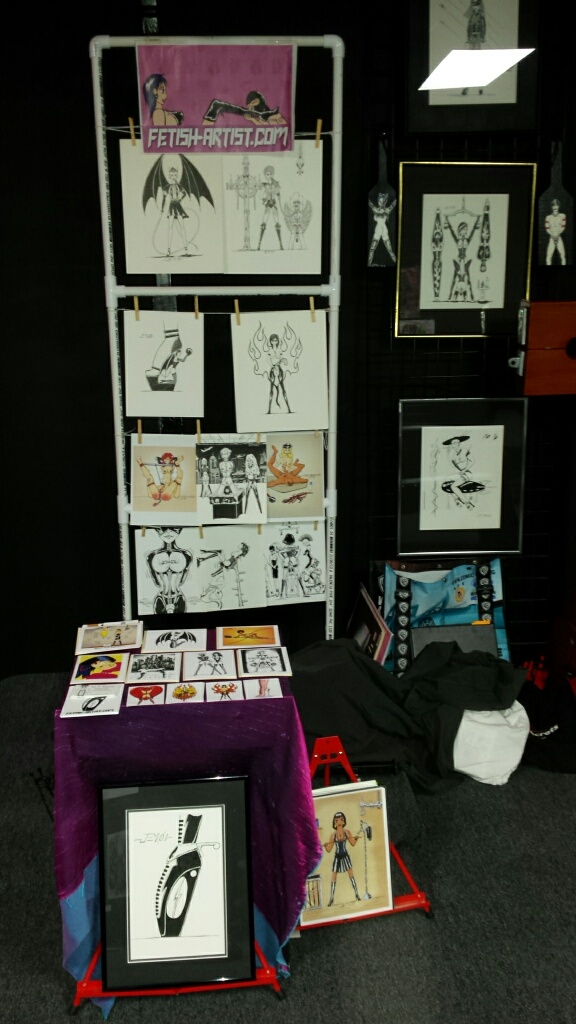 I've been typing for about half an hour on social media here and there about SMUT last night. We're still trying to round up some photos. I got a shot of my booth, but held back on photographing the rooms and crowds because I got overwhelmed with attendees and I try to respect guests who don't want to be photographed at shows like this.
But it was awesome! The show was a huge success. Two friends from outside the scene dropped by to check it out, and they stayed until closing! They were there after I left! Honestly, I thought some of the entertainment would be seen as old or dated, like the grinder girl dance, but the crowd just ate up the performance as sparks flew across the main floor and the energy in the place was fantastic.
On the downside, I think I was one of the few artists who sold, but they just simply put pieces up, walked away, and didn't have a way to make the art more accessible like selling prints. Most customers for events like this are low-end buyers, but they are great for impulse buys. I'm thinking of doing an article about this on the safe for work wordpress blog. There were some really good pieces out there, but they weren't set to move quickly.
I loved the crowd. As I was breaking down to leave early (had to be at a Union meeting in the morning), a young woman walked by wearing a sign that said "Ask to draw me nude," she was depressed there were no takers, but within about 10 minutes she found someone and leisurely reclined in a Downtown Willy metal spider web throne. She said she had been fantasizing about this for ages, and was so glad to find someone. I think she may be looking for more of this in the future.
More later, Domcon is coming, and no doubt Rick Castro over at Antebellum has something in the works soon.